Fund manager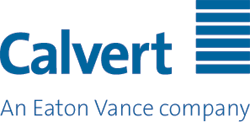 Some sustainability-mandated funds actively engage the companies they own. Indeed, efforts by sustainability-focused investors whose funds are found on this site have been crucial to driving positive change in deforestation-risk sectors like palm oil. A number of asset managers are known sustainability engagers, and have taken actions such as filing  shareholder resolutions  asking for policy changes. Those asset managers deserve special acknowledgement - often, they're using their investments to make sure they have a voice at the table to call for real improvements in company behavior. We used  data collected by Ceres  to identify asset managers that have filed shareholder resolutions on deforestation, climate change, or similar environmental issues. If a fund has investments in companies we screen for, but the asset manager is a known filer of deforestation or environmental-related shareholder resolutions, we assign a special engagement score.
Calvert Research and Management has filed deforestation or other climate-change related shareholder resolutions at AGL Resources Inc., Amazon.com Inc, AT&T, Inc., Casey's General Stores, Inc., CBRE Group, Inc, CenterPoint Energy, Inc., Cleco Corporation, Colgate-Palmolive, Colgate-Palmolive Co., Danaher Corp., Dillard's Inc., Dish Network Corporation, Dover Corp., Dr Pepper Snapple Group, Inc., Expedia Inc., FirstEnergy Corp., Genesee & Wyoming Inc, H.B. Fuller Company, HD Supply Holdings, Inc, Hertz Global Holdings, Inc., International Flavors & Fragrances Inc., J. C. Penney Company, Inc., JB Hunt Transport Services Inc., Kansas City Southern, Kroger, L Brands Inc, Marriott International, Inc., Nucor Corporation, PACCAR Inc., Pioneer Natural Resources Co., Polaris Industries, Public Storage, QEP Resources, Inc., Safeway Inc., Sears Holdings Corporation, Sensient Technologies, SM Energy Corporation, Smithfield Foods, Inc., Southwest Gas Corporation, Staples, Inc., TJX Companies, Inc., and Yum! Brands, Inc. See the resolutions
Looking for your favorite fund and can't find it? Sorry, but we don't have everything in our database.
More from Invest Your Values
See how mutual funds and ETFs are rated on issues ranging from fossil fuels, to deforestation, gender equality, guns, prisons, weapons, and tobacco: